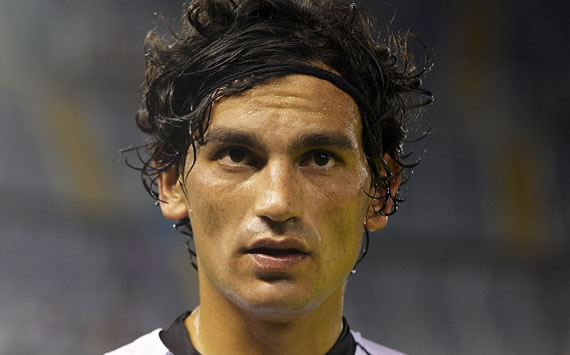 LEVANTE


Munua

Venta, Ballesteros, Nano, Del Horno
Torres, FarinosEl Zhar, Barkero, Juanfran
Kone

VALENCIA


Alves


Bruno, Rami, Dealbert, Barragan
Costa, Albelda
Feghouli, Jonas, Alba
Aduriz

The hosts look fairly healthy entering the match, though Valdo and Juanlu are still suffering from injuries and look unlikely to feature.

For the visitors, the list of injuries is rather long. Aside from Sergio Canales and Hedwiges Maduro both being out, which has been the case since October, Victor Ruiz, Jeremy Mathieu, Pablo Hernandez and Miguel may also miss the match with minor knocks. It was believed that Pablo Piatti would lose his fitness battle, but after practising on Tuesday, he looks set to go.

In addition, Unai Emery will likely rest a few players with the three-goal advantage, with Aritz Aduriz a good bet to start in attack, replacing Roberto Soldado, who will likely be on the bench and come on if the visitors find themselves down early.



Levante face a tough task if they hope to make it to the semi-finals of the cup. In the first leg, the side fell to Valencia 4-1, allowing three goals in the first half.
The debate as to whether the club have ever won a Copa del Rey remains. In 1937, during the Spanish Civil War, which suspended the national competitions, clubs in the Republican area of Spain participated in the Copa de la España Libre, which included their opponents for Thursday, Espanyol and Girona. Levante won the cup, beating Valencia 1-0 in the final. In 2007, the Congress of Deputies urged the Royal Spanish Football Federation to accept the result as a Copa del Rey victory since the famous cup did not take place, but the governing body of Spanish football determined that it was not valid, though many Levante supporters feel it is.
Valencia look to have one foot in the semi-finals after goals from Soldado, Piatti, Tino Costa and Jonas earned the thumping result in the first leg.
The winner of the tie will face either Barcelona or Real Madrid in the next round.
The visitors have won the Copa del Rey seven times, with the last time coming in 2008.
Prediction
All Valencia need to do is play quality defence to secure a spot in the next round. The pressure is on the hosts, who will attack, so the visitors should have enough chances going forward on the counterattack to safely advance to the last four.
Editor's Prediction
Levante

1

-1 Valencia