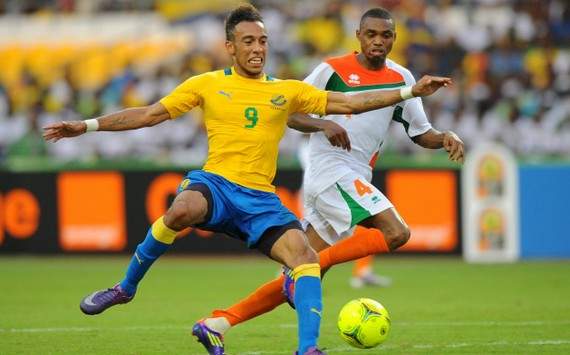 GABON


Ovono

Mouele, Manga, Ebanega, Poco, Moussono


Aubameyang, Madinda, Moubamba,N'Guema
Mouloungui


MOROCCO

Lamyaghri

Basser, Benatia, Kantari, Kaddouri


Belhanda, Kharja
Amrabat, Boussoufa, Taarabt
Hadji
After downing an unsettled looking Niger side in their Group C opener, 2012 Afcon co-hosts are now gearing up to face a Moroccan team still reeling from their disappointing 2-1 loss to Maghreb rivals Tunisia.
Gernot Rohr's men looked stellar against the Mena, hardly taking their foot off the pedal while being led by the irrepressible Pierre-Emerick Aubameyang. However, the German coach will be well aware that facing an Atlas Lions team on the brink of elimination will be a much more serious test for his side.
Aside for the outstanding home support that the Panthers will be certain to enjoy at the Angondje stadium in Libreville, another positive for them is that they're at full strength and haven't sustained any injuries. Furthermore, Stephane Nguema is the only player they have who is carrying a yellow card into the encounter. Thus, the pre-match conditions are ideal for the Gabonese as they look to produce another solid showing.
The situation on the Moroccan side of the fence is more complex as their opening game loss to the Carthage Eagles was followed by many Moroccans questioning Eric Gerets' personnel decisions, particularly the inclusion of an out of form Oussama Assaidi.
Criticisms seem to be justified as the latest news from the Atlas Lions camp is that Assaidi, who perhaps should have been left out to recover fully, re-injured his achilles and will probably miss the match against Gabon.
Meanwhile, right-back Michael Basser sustained an ankle injury and may also be forced to sit this one out. While he wouldn't have played anyway, the fact that third-string goalkeeper Issam Badda has been diagnosed with what is being termed a benign form of Malaria isn't good news either. Furthermore, Marouane Chamakh is suffering from a fever and didn't train on Wednesday. The north Africans will have to overcome all of these difficulties if they hope to resurrect their tournament.


Morocco once beat Gabon 6-0 in Rabat during 2006.
The Panthers played a leading role in ensuring the Atlas Lions missed out on both the 2010 World Cup and Angolan Afcon as they beat them 2-1 in Casablanca and then 3-1 in Libreville.
The two sides have faced each other 10 times and there has never been a draw between them. Gabon has won three times and Morocco has been victorious in the remaining matches, often quite comfortably.
Gabon won their first game at the 2010 edition of the Afcon but failed to progress to the knockout stages of the competition.
If the Moroccans lose, it will be the third time in a row that they are eliminated in the first round.
Prediction
Gabon may have strearolled Niger but Morocco will be a much tougher opponent for them and one expect that the north Africans' inefficiency in front of goal won't last forever.
Editor's Prediction
Gabon

1

-1 Morocco