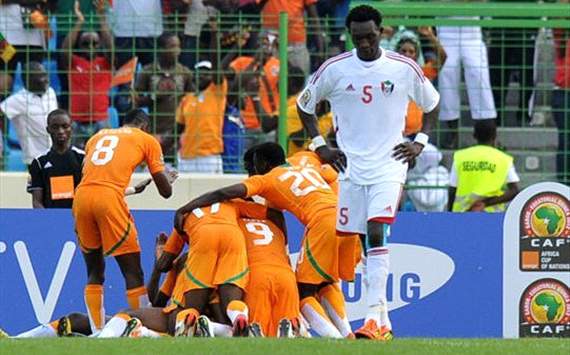 SUDAN
Mohjob
Khaliefa, Al Basha, Massawi, Mosab
Badreldien, Hamed, Kamal, Yousif
Mudather, Agab


BURKINA FASO
Diakite
Tall, Koulibaly, B Kone
D Kone, Koffi, Rouamba, Kabore, A Traore
Pitroipa, Dagano
At the moment Sudan are third in Group B with just a point to show from their two games. Their chances of qualifying are quite slim, but they could sneak into the knock out stage with a good win while hoping that the result of the other group game that will be played concurrently goes in their favour.

The Falcons of Jediane will at all cost have to win against the Stallions of Burkina Faso, who have lost all both of their Afcon games and lie at the bottom of the group without a point. The west Africans have nothing to lose, but could at least strive for a win to depart the tournament with some grace.

Burkina Faso go into Monday's final group match with uncertainty regarding the future of their coach Paulo Duarte, who has threatened to quit if the national football federation does not change. He is upset over the way the federation handled a number of nationality issues, with Cameroon-born Herve Zengue missing the finals and Abdou Razak Traore unable to play.

Sudan will be using a full strength side in the hope that a result comes their way, while Bukina Faso have a strong side available, but they will have little at stake other than a bit of pride and a good result to exit the tournament with their heads held high.


Sudan are ranked 120th on the Fifa monthly rankings.

The Falcons of Jediane will advance to the quarter-finals as the second-placed team in the group if they defeat the Stallions and the Elephants defeat the Palancras Negras, while the combined margin of the two wins needs to be at least three goals.

The east Africans came into the tournament as one of the top two runner-ups during qualifying.
Burkina Faso are out of the tournament after losing two games against Cote d'Ivoire and Angola.
The Stallions are making their eighth appearance at the continental showpiece and their best was a
fourth place finish in 1998.

The national team was once known as the Upper Volta.
Prediction
It appears this may be an open game as both sides look set to outdo each other in a match that means a great deal to the north Africans, but one that will only save the face of the west Africans. It could end up in a stalemate.
Editor's Prediction
Sudan

1

-1 Burkina Faso