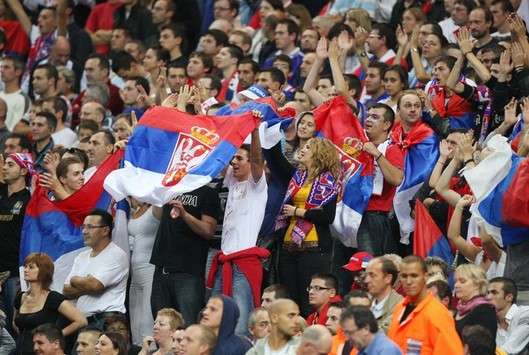 Although Serbia are all but out of the race for a ticket for the 2014 World Cup in Brazil, Friday's qualifier at home against Croatia remains one of the most important games in their history due to the fierce rivalry between both countries.
Over two decades ago, the two countries were going head-to-head as well, but in a far scarier arena than the football pitch, when the nation which bound them together for over 60 years - Yugoslavia - broke up and ended in a bloody war which started in 1991.
Those who had been football rivals became enemies in battle, leaving deep scars which will undoubtedly rear their ugly heads on Friday, when the two clash in Belgrade.
Both sides met for the first time in 1999, when they were paired together in the qualification for Euro 2000 in Netherlands and Belgium. After a scoreless draw in Belgrade in August, the return ended in a 2-2 draw in Zagreb and current Serbia boss Sinisa Mihajlovic has not forgotten about the impact the game had.
"The stadium in Zagreb was like a volcano. There were police everywhere. The war between the 2 countries was still fresh in everyone's minds. There were lots of former team-mates who had played alongside each other for Yugoslavia now facing each other," Mihajlovic told La Gazzetta dello Sport earlier this year when Croatia hosted Serbia.
Despite his emotional memories, the 44-year-old feels the time has come to forget about the past, though, and he warned his player that he would not accept any non-sporting behaviour ahead of the away game back in March.
"If one of my players is sent off for non-sporting behaviour, and it sets off the crowd, then he'll never play for the national side again. The whole world will be watching. The time has come to forget about the past, to offer a hand of friendship and look towards the future."
Regardless of Mihajlovic's commendable attitude, though, there's little doubt that Friday's encounter will be yet another tense encounter.
"These are the kind of matches you will remember your whole life," Croatia and Bayern Munich striker Mario Mandzukic. said
"Everybody is talking about it, asking and begging us to win, and we can't wait to go out there and play it."
Whereas Serbia have already all but given up hopes of making it to Brazil with just seven points from as many games, Croatia still have every chance of making it to next year's tournament as they are trailing section leaders Belgium by just three points.
That's not to say that the Serbians will be handing out any presents, however, as for the divisions between the two countries, they will be fighting for the same things: pride and victory.