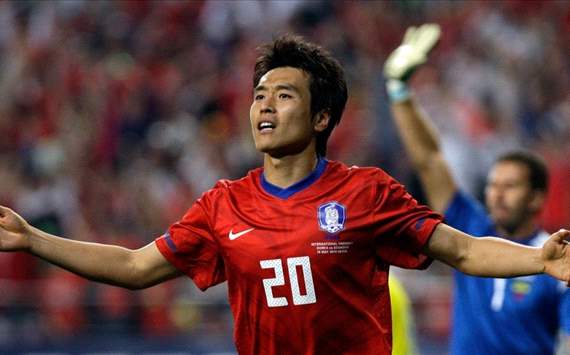 SOUTH KOREA
Jung SR
Park WJ, Kwak TH, Lee SH, Choi HJ
Ha DS, Kim SS
Han SW, Kim JS, Lee KHLee DG

UZBEKISTAN Nesterov

Ismailov, Tadjiev, Filiposyan, Inomov
Khaydarov, Andreev, Kapadze, Kilichev
Nasimov, Salamov

It is Choi Kang-Hee's first game as South Korea coach and he's assembled a domestic-only team - with several players from his ex-club Jeonbuk Motors - given this match takes place on a non-Fifa match date.

The named squad is also for Korea's do-or-die World Cup qualifier against Kuwait on February 29, but Choi only named two European-based players in that team anyway. Those two, Arsenal's Park Chu-Young and Celtic's Ki Sung-Yueng are unavailable for this game, while Jeonbuk midfielder Kim Jung-Woo is out of the squad due to injury.

White Wolves coach Vadim Abramov has taken an inexperienced and weakened squad to East Asia, where they will face South Korea on Saturday, before a 'dead rubber' World Cup qualifier against Japan. Regulars Shavkat Mullajanov, Islom Tukhtakhodjaev, Odil Akhmedov, Sanzhar Tursunov, Vagiz Galiulin, Aleksandr Geynrikh and Server Djeparov are not in the squad due to suspension, meaning up to eight players could make their international debuts.


The last time these two nations met was at the 2011 Asian Cup, in the third-place play-off which South Korea won 3-2, having led by three goals.
In the Taeguk Warriors last match, they were surprisingly beaten 2-1 by Lebanon, who they beat 6-0 earlier in World Cup qualifying. The result triggered the events which led to Cho Kwang-Rae's sacking and Choi Kang-Hee's (pictured) appointment.
Kwak Tae-Hwi has just taken over as South Korea skipper, replacing Park Chu-Young who has eight goals in his past five international appearances.
Uzbekistan have lost their past two matches, 1-0 defeats to both UAE and Kuwait, but similarly to Saturday's match, fielded weakened line-ups.
Key midfielder Timur Kapadze will know a lot about his opponents, having played in the K-League last season for Incheon United. Absent duo Server Djeparov and Alexander Geynrikh also spent time playing in Korea during 2011.
Prediction
An under-strength Uzbekistan will struggle despite Choi Kang-Hee fielding a completely new South Korea team. The Taeguk Warriors still have plenty of quality in their ranks and on home turf should be too good.
Editor's Prediction
South Korea

2

-0 Uzbekistan