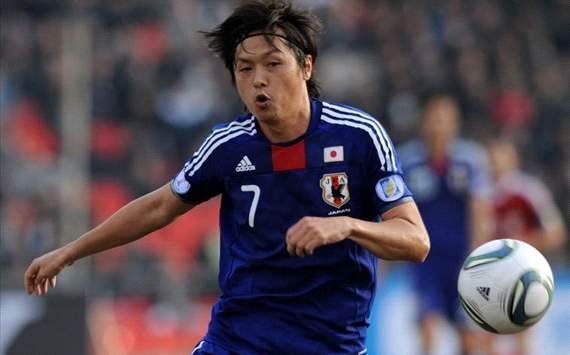 JAPAN
Hayashi
Inoha, Makino, Konno, Komano
Shibasaki, Masuda,
Okubo, Kashiwagi, Nakamura Maeda

ICELAND Gunnleifsson

Jonsson, Adalsteinsson, Kristjansson, Jonasson
Danielsson, Bjarnason, Skulason
Smarason, Thorvaldsson,

Thorsteinsson

With both 30th-ranked Japan and 102nd-ranked Iceland sending out their B-teams for Friday's friendly, this match will be of less interest to casual fans and more interest to coaching staff, journalists and scouts.

Unable to summon his European stars for this non-Fifa match date, Japan manager Alberto Zaccheroni has called up a roster of J-League players that includes five newcomers who could potentially earn their first caps. Defenders Masahiko Inoha and Tomoaki Makino, both playing in Japan again after unsuccessful stints in Europe, will join mainstays such as Yasuyuki Konno and Yasuhito Endo.

The visitors' 18-man squad is light on big names overall; veteran goalkeeper Gunnleifur Gunnleifsson and defender Hallgrimur Jonasson are the only two players who started in Iceland's last international fixture, a 5-3 loss to Portugal in the final round of Euro 2012 qualifications. Manager Lars Lagerback will use his first match as a chance to try out unknown players and hopefully come away with some pride and even a draw from the reigning Asian champions.


In their last meeting in a 2004 friendly, Japan beat Iceland 3-2 at Manchester City Stadium with two goals from Tatsuhiko Kubo and an eventual game-winner by Alex dos Santos.
This will be Japan's first match since their 1-0 loss to North Korea in Pyongyang last November.
At 18 years and two months, Yuya Kubo would unseat Hidetoshi Nakata to become the youngest Japanese player to score an international goal were he to find the net.
Iceland has yet to qualify for either the World Cup or European Championships.
Iceland manager Lars Lagerback coached the Sweden national team for nearly a decade, leading them to two Round of 16 appearances at the World Cup and three Euro appearances.
Prediction
Japan are undoubtedly the stronger of the two sides, but depending on substitutions it's not out of the question that Iceland can pull back a consolation goal or two.
Editor's Prediction
Japan

3

-1 Iceland